Benefits
Develop customised job redesign solutions based on your company's needs
Receive up to 70% funding for consultancy services, capped at $30,000
Choose to receive consultancy support from 16 pre-approved job redesign consultants
The Business Case for PSG-JR
Faced with challenges in attracting and retaining talents, Shaws Preschool took up the Support for Job Redesign under Productivity Solutions Grants (PSG-JR) and partnered JR consultants to embark on a job redesign project.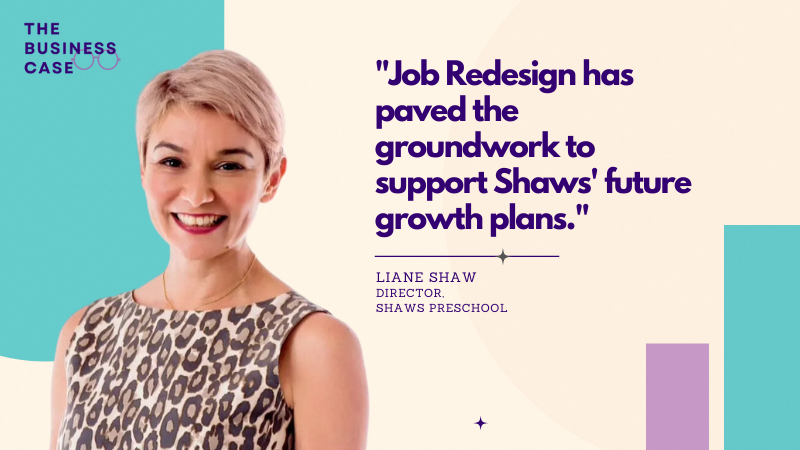 What is it?
The Support for Job Redesign under Productivity Solutions Grant (PSG-JR) encourages enterprises to work with pre-approved Job Redesign (JR) consultants to redesign work processes, tasks and responsibilities. Through supporting workforce and business transformation, JR can help make jobs more productive and attractive for workers, and benefit enterprises by allowing them to hire and retain good workers here in Singapore.
The Singapore National Employers Federation (SNEF) has been appointed by Workforce Singapore (WSG) as the Programme Manager to administer PSG-JR, and a panel of pre-approved JR consultants has been appointed. The pre-approved JR consultants will assist enterprises in the following:
Scope and develop proposals for PSG-JR; and

Implement the PSG-JR project and ensure that the committed deliverables for the project are met.
Interested enterprises may refer to GoBusiness Gov Assist for the list of pre-approved JR consultants as well as engage them for PSG-JR proposals and quotations.
For more information, download the Factsheet, Infographic and FAQs. Enterprises that are interested to find out more about PSG-JR can visit https://snef.org.sg/incentives/psgjr or click here for assistance.
Subsidies and Funding
Eligible enterprises will receive up to 70% funding for consultancy services, capped at $30,000 per enterprise. Funding is on a reimbursement basis upon completion of the PSG-JR project. You will have up to one year to complete the project.

On top of the above funding support, you can also tap on the SkillsFuture Enterprise Credit (SFEC) to defray out-of-pocket (OOP) expenses. Eligible enterprises will receive a one-off $10,000 credit to cover up to 90% of OOP expenses.
---
Transforming the Built Environment through Job Redesign and Reskilling
Technology has revolutionised the built environment workforce and industry by introducing new ways of working. Thanks to these advancements, challenges once faced by the sector can now be effectively addressed. Businesses have the opportunity to develop their workforce by embarking on job redesign and reskilling with Workforce Singapore.

Learn how two progressive employers from the industry have benefitted from the support for Job Redesign under Productivity Solutions Grant (PSG-JR) and Job Redesign & Reskilling (JRR) Career Conversion Programme (CCP) for Building Information Modelling Professionals.